Tran'sparency Report 2022 Vietnamese Green Specialty Coffee
The purpose of this report is to keep you, our Karmic Circle Coffee Co-shippers, informed about the particulars of your coffee and its journey to your door.
The distance between California and Vietnam is over 8,000 miles.
Port of disembarkment: HCMC
Port of discharge: LAX
Estimated transit time: 2-4months
Weather Conditions: Monsoon type
Central Highland Climate: subtropical/temperate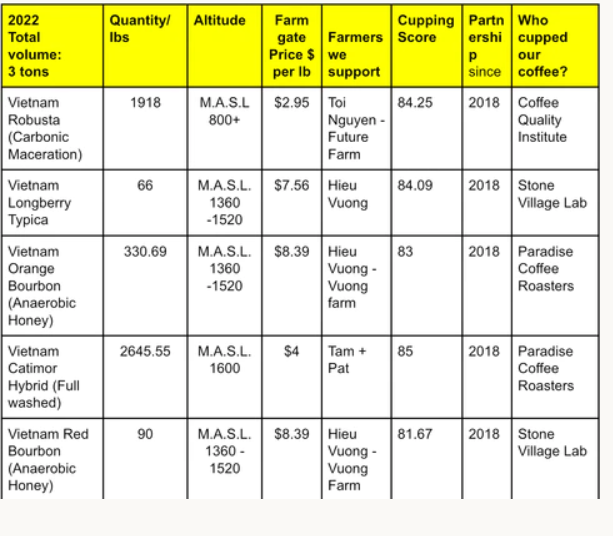 Our Scope of Work: We focus on selling Vietnamese coffee seasonally, which means our importation of new crops happens in the U.S between May to October each and every year. We only sell freshly harvested beans.
Logistics Costs have improved in 2022
This year, we generated 3000 kg from several different U.S roasters, then consolidated them into one shipment to save on costs for all parties.
Our Cost formula: Farm gate prices + percentage of green coffee purchase + % of commission (depending on the amount of your green coffee order). We are rolling out an SAS contract for next season.
Please note: the more you purchase the less you pay in commission.
Our current challenges:
Tracking inventory in the warehouse can be improved. Next season, we will implement QR code labeling and image I.D. authentication of your coffee jute bags and their contents. On the farm side we will be working with all farms to enhance sorting rigor, as per customer's specifications.
Our Farmers: We are currently working with three farms: Future Farm, Vuong Farm and Lang Biang Coffee Cooperative. These producers have their coffee cupped and q-graded by professionals with the scores shown from above. This year has been our 4th year working together. We are always searching for more specialty coffee producers to join us.
Our main effort is to use collaborative relationship building to lessen the cost of importing Vietnamese specialty micro lots scored above 83+. So that these beans become accessible to U.S roasters. In a manner that continues to support producers from the perspectives of scalability and consistency of quality.